Competitive Computing (C2) - Brand Development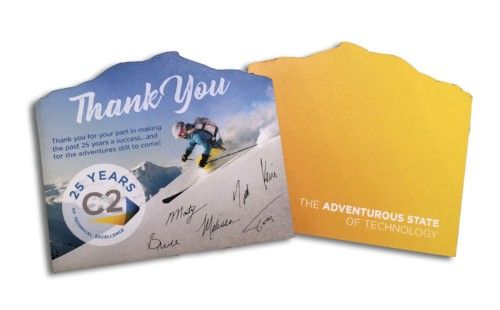 Objective:
Assist Marketing Director with a shift in C2's branding direction, to include trade-show collateral, staff gifts, and the company's 25th Anniversary celebrations.
Strategy:
Employ latest branding direction to support C2's new tagline The Adventurous State of Technology for all print collateral, promotional items, and packaging.
Outcome:
Working closely with the client, Paw Print designed and produced a variety of branded products from maple syrup to growlers, to include strategic ties to Vermont, the outdoors, and healthy energy, while celebrating the company's 25th Anniversary.

"You guys knock it out of the park every time! The end result - whether a promo item, print piece or other marketing effort - is always top-notch, on-time, and delivered with a smile. Thank you so much!"
                                                                                      Jennifer G.
                                                                                      Competitive Computing
We're so grateful for our branding partnership with C2! Watch the video below to hear from C2's Jennifer Graham about her experience with Paw Print.
Stainless Steel Waterbottles

Large Format PVC Poster (Custom Die Cut)

Copper Mugs & Tags

Embroidered Bags

2017 Holiday Card Design

Branded Maple Syrups

Paper Bags

Anniversary Shirt & Hang Tag Giveaway

Debossed Pocket Journals

Embroidered Beanie Hats

C2/Rubrik Growlers

Webcam Cover Package