Presentation Folders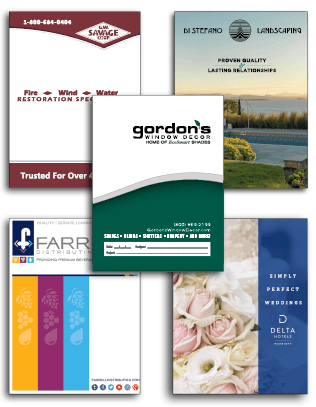 At Paw Print & Mail, we're big fans of the professionalism a Presentation Folder conveys about your company or organization. At its highest and best use, a Presentation Folder forms the foundation of a sales kit that becomes an integral tool for your company's sales staff and marketing efforts. 
When you hand a prospect or client a Presentation Folder containing your proposal, sales sheets of your products and services, letters of testimonial, and any other documents that position you and your company or organization as professional, communicative, and prepared, you set yourself apart from your competition.
Our most popular Paw Print & Mail Presentation Folders have 1 or 2 pockets on the inside to hold your materials. They also offer convenient corner slots on the interior pockets to hold your business card. Visit our online catalog to find the perfect presentation folder for your brand.
Paper Choices
We offer an extensive selection of both coated and uncoated stocks in a variety of weights, colors, and finishes. Presentation Folders using a coated stock are printed with an Aqueous Coating (AQ). This is a semi-gloss, environmentally friendly, water-based coating applied over the entire front and back of the printed piece. It provides additional gloss and protection, and it can be written on with a ballpoint pen.
Printing Options: Ink, Emboss, Foil
For printing choices, we offer the following:
1-color ink
2-color ink
Process color (full color)
Embossing (either blind, ink, or foil embossing)
Foil stamping
Combinations of the above
Standard Sizes
Our most popular standard sizes are below, though we can produce virtually any custom size and die-cut specifications you desire:
5.25" x 10.5"
6" x 9"
9" x 12"
9" x 14.5" - Legal Size
* Each size (above) indicates the finished size of the Folders.
To learn more about our Presentation Folder styles click here, call us at 802.865.2872, or complete the form on this page.
5 Star Rating!

"You guys never let us down. Thank you for your strong communication skills and being downright fabulous!"

                                                                    Jody G., Gordons Window Decor